Alpha Studio is a unique web application designed for publishers and photo studios to ease the collaborative management of the photo production workflow. Available online, the application allows each and every user involved in the production process to interact in accordance with their profile and their own role.
A transverse management tool for photography production, from shooting to images enhancement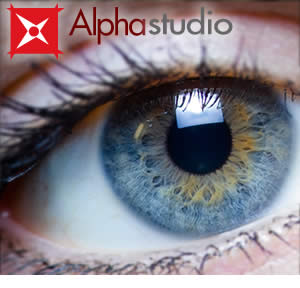 Alpha Studio is an online web application designed to ease management, approvement, and digital file delivery, intended for photographers, studios, advertising agencies, images producers…
The online application is notably in operation for the DIY brand «Castorama» to manage the photo production workflow and visual assets involved in ads campaigns. 3 shooting studios, 2 advertising agencies, logistics samples teams and corporate communication staff are connected with their web browser upon Alpha Studio interfaces.
Product sample management and logistic for studio shootings, photo briefing attachments and online images approvement… Alpha Studio also automates digital files delivery for publishing and editions.
• Sample collections logistics management
Alpha Studio automatically creates the products catalog to manage samples movements. Orders to suppliers, entrances and exits in and from studios or shooting locations, returning samples… Issued order forms and vouchers allows products stock management.
• Photo projects management, for web and printed content
As a starting point, shooting projects are added within the interface of the application. Concerned users then create future storage locations for the needed images in the scope of current project, the "meta-image". Informations about the job and the photo to be realised are also stored in, as the road book, briefing notes, rough drafts…
• Artistic and/or technical photo approval process
Photos are reviewed and approved online within the interface. Users may add comments and even download a low resolution file for placement in artworks or editing models for instance.
• Automated high definition files delivery
Several delivery options for photo files are available in the settings : FTP, download, file addressing to a DAM system…
• Integrated photo library
Alpha Studio offers as an integrated module a photo library where approved visuals are automatically indexed, with all their data from projects. The app automatically indexes the visuals, as soon as they are approved, and they are available for search and online display. A per product family, and per project origin, classification is available. The photo search engine allows per reference, theme or keywords retrieval. A magnification zoom visualisation to check photo details, and even a selection system allows users to send by mail a set of files in the same fashion «we transfer» does. Seems like a DAM directly connected with the approval image hub.
Read online :
Alpha Studio Web Site – in french


NB : Cet article est un aperçu de notre application Alpha Studio à l'attention des lecteurs anglais. Pour en savoir plus "in french" sur Alpha Studio, pour les photographes, les studios et les éditeurs :